Welcome To The Satinpuss Homepage
Hello, my name is Eve and I live in the beautiful Devon countryside, not far from Exeter. I enjoy taking my British Shorthairs to cat shows and 3 out of my 4 adults are Champions so far. Click on 'Show Results' page for clubs, venues, show dates and awards.
I do breed kittens in a small way, having 2 or 3 litters a year from my lovely boys and girls. I specialise in the Blues and sometimes have the striking Blue-Cream colouring. Click on 'Kittens Available' page for the latest news on kittens expected and available, there are usually some photo's too.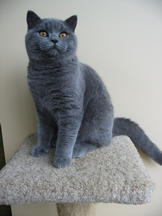 'Satinpuss' is a registered prefix with the GCCF (Governing Council of the Cat Fancy). All kittens are registered with the GCCF.
Coat colours: top photo Blue self, lower photo Blue-cream.
I am also a member of the Southern British Shorthair Cat Club
Website Updated on 14 September 2008